Massage Therapy in Lakeville
At Family Chiropractic and Wellness, we provide the complete natural care you need. Chiropractic, physical therapy and massage therapy can all work together to get you the result you've been hoping for. If you need to recover from injury, get rid of pain or have physical problems with your spinal cord, joints, ligaments and muscles, then massage therapy may be ideal for you.
Who Can Benefit From Massage Therapy?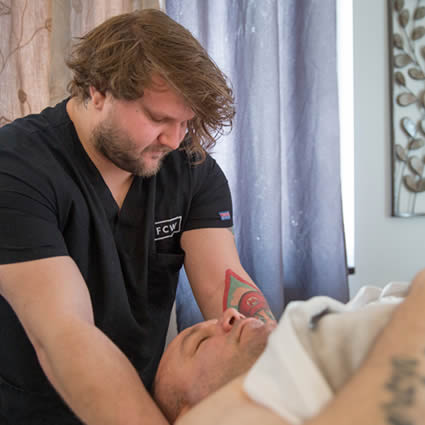 If you need help with any of the following, massage therapy can help you:
The removal of toxins. Massage can stimulate circulation of multiple things in your body. It can increase blood perfusion which helps to cycle out the older blood that is full of toxins like lactic acid. It also can stimulate lymphatic drainage to help your body remove waste products.
Increased flexibility. Massage addresses connective tissues, muscles, ligaments, tendons and joints. You'll feel more flexible and less prone to injury.
Reduced spasms. Tense muscles and trigger points can relax from massage therapy. You'll be less stiff and have fewer muscle spasms.
Accelerated recovery. IF you have an injury, massage can restore your movement and help you heal from pain and anxiety.
Better healing abilities. When you combine massage therapy with chiropractic, you can recover from surgery, heal back pain and may reduce your high blood pressure and incidence of conditions such as diabetes.
Massage therapy and chiropractic are the perfect combination to relieve your pain, get you moving again and improve your overall well-being. Massage addresses the soft tissues of the body. Chiropractic looks at your nervous system, musculoskeletal system and hard tissues. Each technique means a more complete recovery for you.
When you have a massage before your adjustment, you'll feel loosened and relaxed, which can mean a more effective adjustment. Since massage loosens the lactic acid that causes stiffness and spasm, it will mean you won't experience discomfort during your adjustment.
Before you have your first massage, your practitioner will meet with you to do an examination and speak with you about what brings you in. If you're already a chiropractic patient, Dr. Jake can discuss your case with them so that they know exactly how best to help you.
The many techniques that can be used during your massage include
Prenatal massage. If you're pregnant, we can reduce common problems like back pain, low circulation and stress.
Deep tissue massage. We'll realign layers of muscles and connective tissue to help with your aches and pains.
Myofascial release and trigger point therapy. Any adhesions can be located and broken up during your massage.
Physical rehabilitation. IF you have had a surgical procedure, our therapeutic massage can foster your healing.
Sports massage. If you are injured, we can prepare you to get back to your athletic activities. You can reduce your fatigue, relieve muscle tension and enhance your performance.
Relaxation massage. With fewer stress hormones in your body, you'll feel rested and relaxed for some time after your massage. Your brain chemistry is changed, resulting in an improvement of your mood.
Experience the Highest Quality of Care
Our massage therapists have been in practice for more than a decade. Let us advance your physical and mental well-being. Contact us today for massage therapy Lakeville!
CONTACT US »

Massage Therapy Lakeville MN | (952) 431-7400